Princess Scavenger Hunt
Thrill your little princess and her friends
Since childhood, we are told fairy tales in which the princess is always the pretty, wise and good one. No wonder we wish to be one, even if just for a day! Thrill your little princess and her friends with this delightful Princess Scavenger Hunt that will royally equip her with the tools she needs to be princess for a day. After finding all of the items, the participants can use them individually or enjoy them with family and friends throughout the day. All of the items may be purchased inexpensively at party or discount dollar stores. Use your good judgment in choosing make-up and hair items that are age appropriate and safe. It is always prudent to inquire about possible allergies before applying make-up.
It has 15 custom created clues. Exmple below: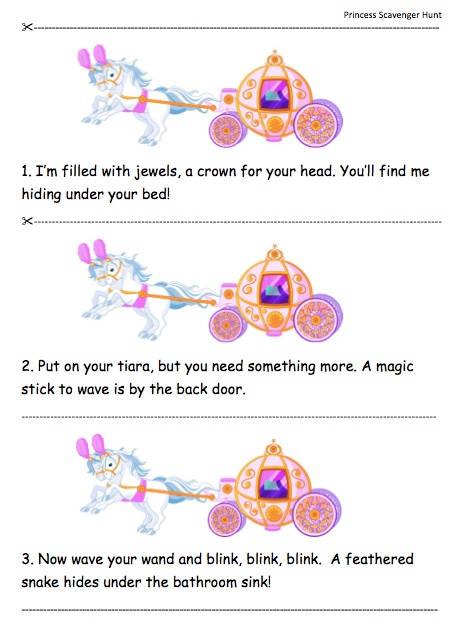 Download Princess Scavenger Hunt!
Remember, we have 100% money back guaranty within 30 days after the purchase. No questions asked!
Ages: Suitable for all ages
Total Number of Clues: 15